WELCOME TO THE CANADIAN FEDERATION OF UNIVERSITY WOMEN IN KANATA
We are about to move to a new improved site. There may be some hiccups. Please bear with us... The address will be the same:
www.cfuwkanata.ca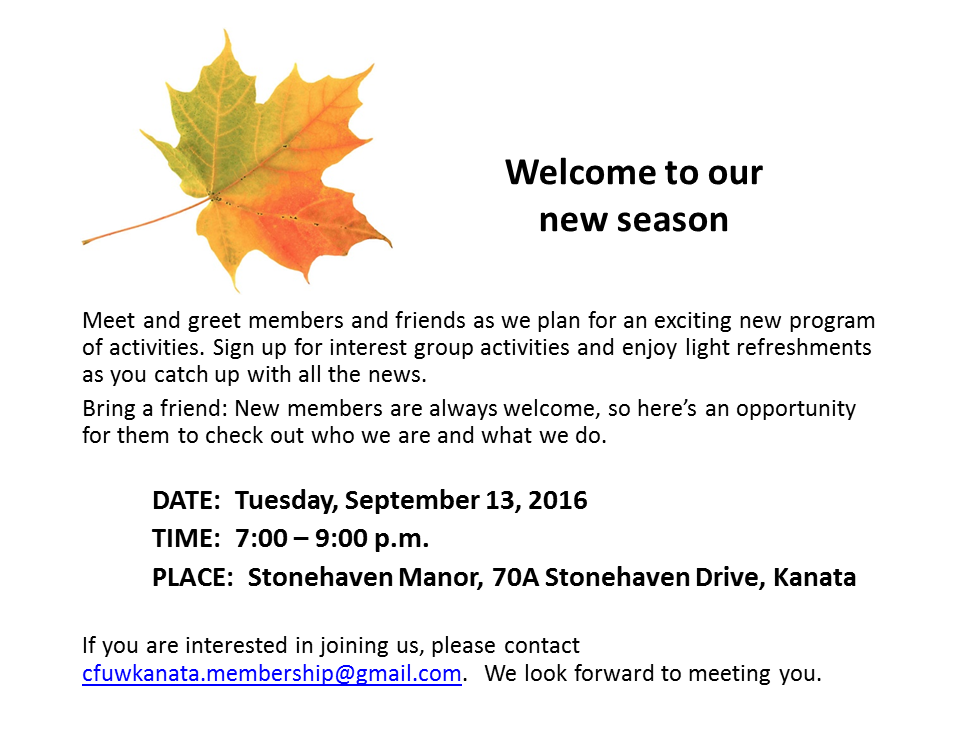 ---
YOU ARE WELCOME TO JOIN US
If you agree with our mission statement and would like to join a vibrant group of active women, we would love to have you share your time and talents with us. Our programs are of interest to women of all ages and interests. General meetings include stimulating speakers, time to network, and short business items. Over twenty interest groups provide opportunities to develop your bridge skills, learn mah-jongg, discuss books, sing, learn to play the guitar, get involved in advocacy for social justice, go to new movies, become a gourmet cook, enhance your artistic skills, and more.
CFUW (Canadian Federation of University Women) is a non-partisan, voluntary, self-funded organization with over 100 CFUW clubs, located in every province across Canada. As a group we are committed to
Promoting education and lifelong learning
Advocating for women's equality and human rights
Active participation in public affairs at the local, national, and international levels in the spirit of cooperation and friendship
Any woman who supports the goals of CFUW is eligible to join us and new members are very welcome. If you are interested in joining us, please contact cfuwkanata.membership@gmail.com
UPCOMING EVENTS TO NOTE:
CFUW/Kanata visit to Perth Classic Theatre - Wednesday, Sept. 7, 2:00 PM

CFUW/Kanata General Meeting – Tuesday, Sept. 13, 7:00 PM

Ontario East Fall Gathering – Saturday, Oct. 22, 9:00 AM – 5:00 PM

CFUW/Kanata Enchanted Mosaic Concert – An Evening with the Arts – Saturday, Nov. 12, 6:00 PM includes Concert, Art Exhibition, and Silent Auction
---
Some areas of this website are for CFUW/Kanata members only and require a login with a username and password. Members may obtain these by sending an email to cfuwkanata.membership@gmail.com With the subject line including "CFUW/Kanata username and password request".
Click on the FALL GATHERING poster to see details of the event.
NOTE: Online registration will be available shortly.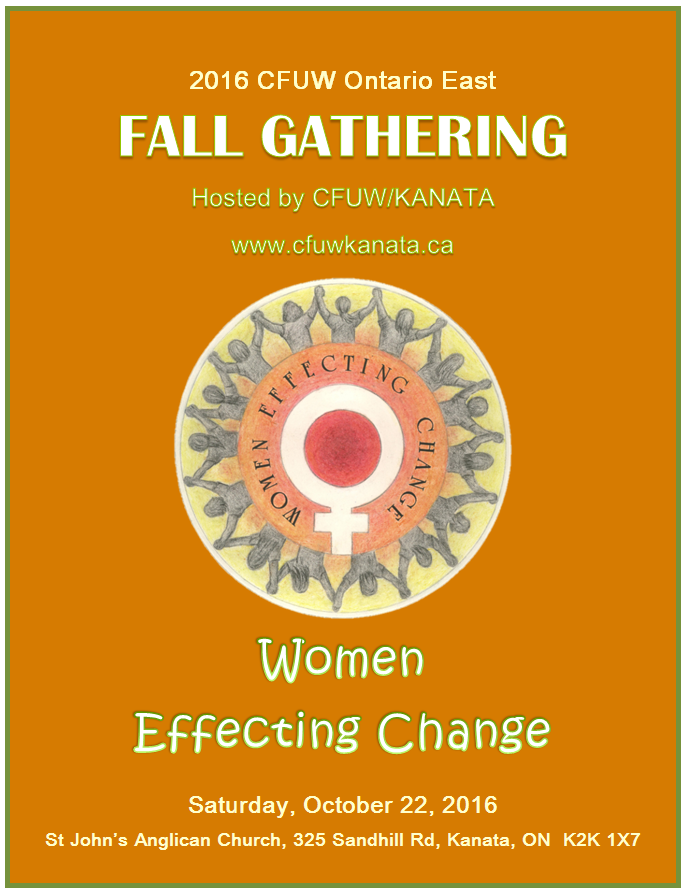 You can register for this here.