Welcome to CFUW/Kanata
Last call for tickets to the AGM.
It's not too late to join us at our AGM on May 10. We have a few tickets still available and it is going to be a lovely evening. We would love to see you there. Members' guests are welcome to attend too! Contact cfuwkanata.publicity@gmail.com by Monday, May 8, to secure your ticket
Save the Date:
Although we are finally enjoying our late spring and looking forward to the summer, here's an announcement about an important event in the Fall. CFUW Kanata is hosting the Eastern Ontario Fall Gathering this year. Click on the poster to see details of the event.
NOTE: Online registration will be available shortly.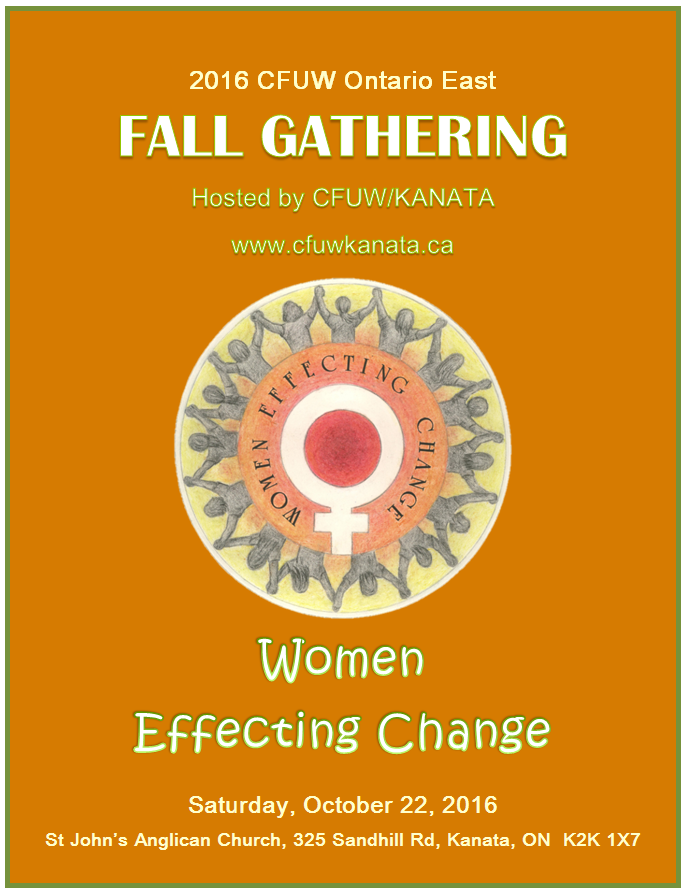 Tuesday, May 10, - Annual General Meeting (AGM)
5:00 p.m. Social Hour; 6:00 p.m. Dinner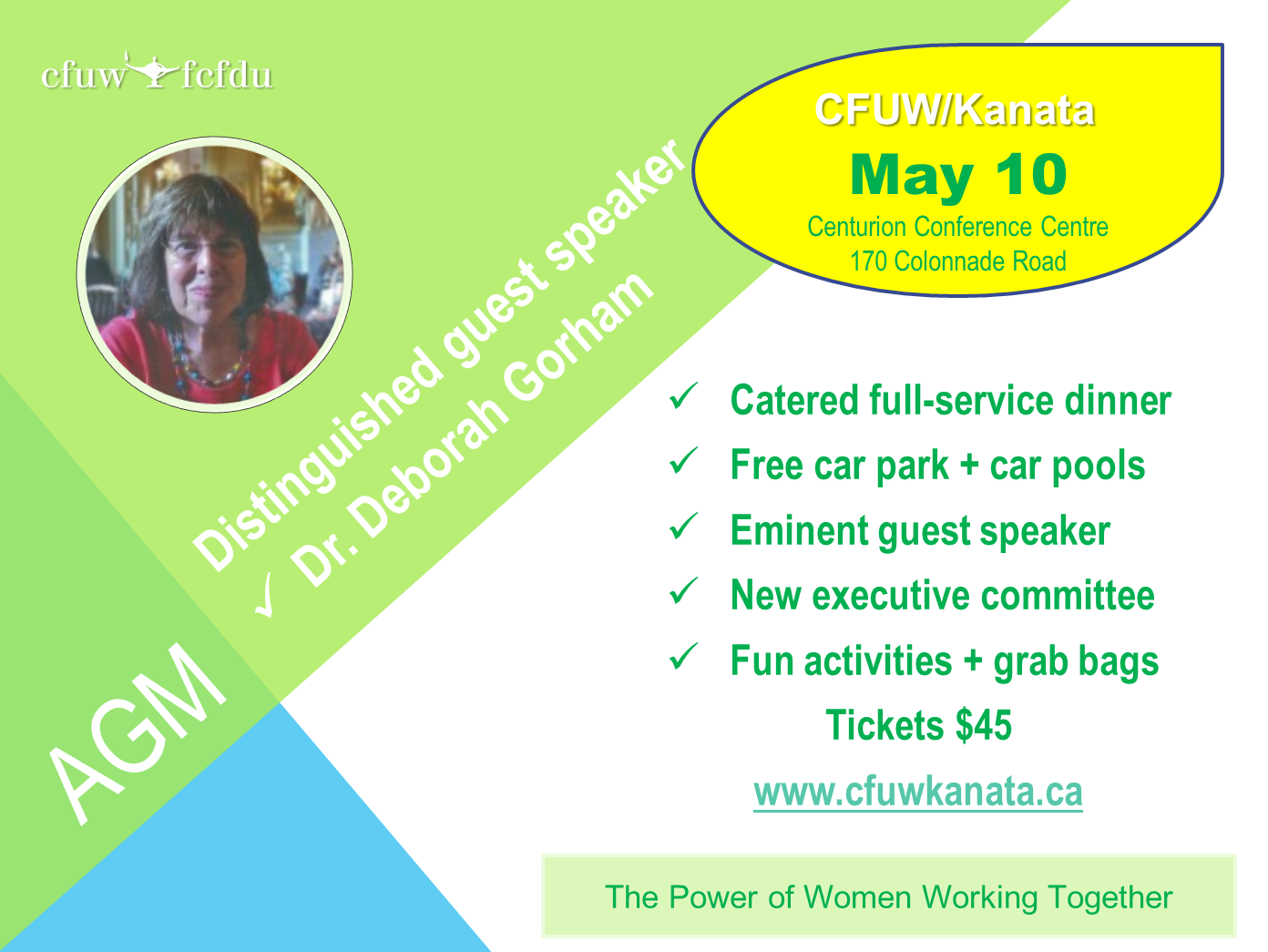 Join us for an evening of fellowship and fun as we celebrate another successful year at CFUW/Kanata and make plans for the next one.
AGM includes a catered dinner, a distinguished guest speaker, entertaining activities, a short business meeting, and the special camaraderie of women working together within CFUW/Kanata.
Dr. Deborah Gorham
We are honoured to welcome Dr. Deborah Gorham, a distinguished professor of history and respected author, who will discuss prominent Ottawa figure, Marion Dewar. Dr. Gorham's presentation will focus on Marion Dewar's Life of Action: This remarkable woman was Mayor of Ottawa from 1978-85, Member of Parliament from 1986-88, and a lifelong political activist who, in 2002, received the Order of Canada, Canada's highest civilian honour.
Car Pools and Free Parking
For those of you concerned about driving, we will match volunteer drivers with passengers. At our next general meeting, we'll coordinate carpools for members requiring a drive.
Location Centurion Conference Centre, 170 Colonnade Road, Nepean
5:00 p.m. Reception with cash bar
6:00 p.m. Dinner
Centurion has plenty of free parking with easy access to the building.
Map https://goo.gl/maps/hbqyRjp9EaM2
Purchase your ticket by May 8. Tickets are available from any Executive member or contact
cfuwkanata.publicity@gmail.com
New members are very welcome. If you are interested in joining us, please contact cfuwkanata.membership@gmail.com
Check out the Members' Secure Website for news updates and a special invitation from our guest speaker Penny Hopkins from CANFRO
---
Welcome from the Executive Committee
Welcome to the Canadian Federation of University Women in Kanata (CFUW/Kanata)! If you agree with our mission statement and would like to join a vibrant group of active women, we would love to have you share your time and talents with us.
Our programs are of interest to women of all ages and interests. Monthly meetings offer time to network, stimulating speakers (See Calendar of Events) followed by short business meetings. Over 20 interest groups provide opportunities to develop your bridge skills, learn mah-jong, discuss books, sing, learn to play the guitar, get involved in advocacy for social justice, visit local restaurants, go to new movies, become a gourmet cook, hone your needlework and artistic skills and many more…
Come and check us out on the second Tuesday of each month, 7 pm at Stonehaven Apartments, 70 Stonehaven Drive, in Kanata. We look forward to meeting you and perhaps having you join us.
CFUW is a member of the Ottawa Council of Women.
---
To protect the confidentiality of CFUW/Kanata members certain areas of the website require you to login with a username and password. Members may obtain these by sending an email to cfuwkanata.membership@gmail.com With the subject line including "CFUW/Kanata username and password request".